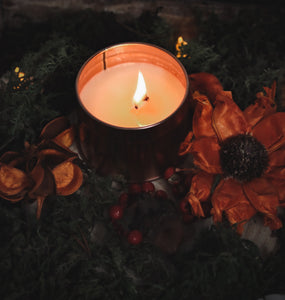 Around the Campfire. A natural soy wax scented candle. As the name suggests this one has a sweet woody smell with some smokey top notes. 
The container measures 4.8cm top to bottom and 6.1cm diameter with a burn time of roughly 25 hours.
Safety
When lit, always keep your candle on a heatproof surface away from anything flammable, and away from children and pets. For the best results allow to burn for a hour or two at a time so the wax has melted all the way to the edge of the tin, and trip the wick down before your next burn.
Let me know if you need a complete breakdown of the ingredients.
SHIPPING
I usually aim to post out within 3 working days of ordering.
 For orders under £50 shipping is, 
UK: £2.50 taking 1-3 working days
Europe: £6.50 taking 5-10 working days
USA: £6.50 taking 10-15 working days

Orders over £50 its free shipping.
Customers are responsible for any customs and import charges.